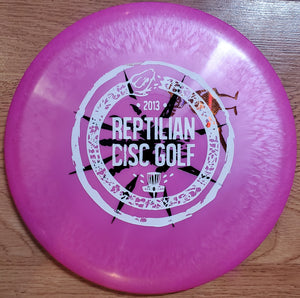 Here's your chance to snag our newest Mid Range! 
The Iguana is a straight flying mid that features the same beaded bottom as the Gila. 
Initial Flight #'s 5, 5, -1, 2 (Subject to change based on feedback!) 
This run is pretty firm, somewhat pearly and moderately grip. Our production run will be a gummy Amber run. 
 The Iguana is formerly the BZ Crossbow. This run features two Black Zombie stamps with an RDG stamp over the top. 
Please specify color preference in comments. Colors we have: White, Blue Pinkish Purpleish Green