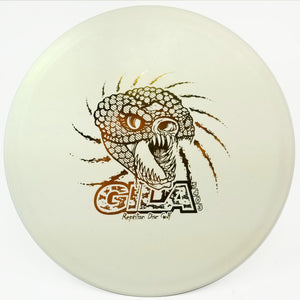 The Gila is our workhorse mid-range. 
Relying on a big bead & aggressive wing, the Gila delivers reliable lines in windy conditions. Whether the shot calls for hyzer, forehand or a clean straight to fade... The Gila is a power player's weapon of choice. 

Flight Numbers: 5, 4, 0, 3

Fossil is our flagship plastic. Fossil is firm, gritty baseline blend that allows discs to season into various flights.